One of the biggest roadblocks that's holding many people back from starting an online business (selling information products) is thinking that they aren't good enough or qualified enough to be considered an expert.
And that's because many people have the wrong understanding of the word "expert".
According to the Merriam-Webster dictionary, the word "expert" is defined as:
That means to say that if you have knowledge or skill in an area that is derived from training or experience, then you are considered an expert in that area.
It doesn't say, "A person who is the best in the world at what they do," or "A person who has been ordained, or anointed by someone or an organization as an expert".
However that's a misconception that many people have. Many people believe that in order for them to be an expert, they have to know every single thing about the topic, be the best in the field, or have someone come up to them to deem them worthy to be an "expert".
And because of that, many people are stuck telling themselves they aren't "good enough" and that's why they don't go out to help people who can benefit from their help.
The truth is that anyone can be an expert!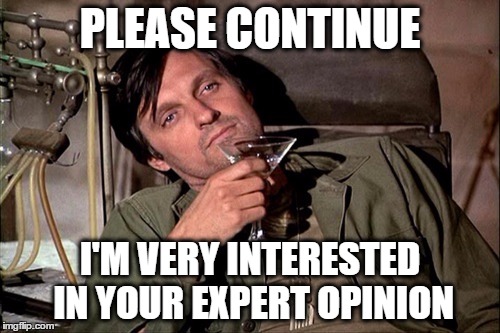 In this day and age, especially when it's incredibly easy to find information on the web, it's certainly possible for anyone to become an expert. And after being on this earth for these many years, I'm sure you have a certain knowledge or expertise that can greatly benefit others.

As long as you are knowledgeable enough where you are able to help someone else who know a little less than you, then you are an expert to them.
So if you can help someone go from where they are now at point A to where they want to be at point B, then you would already be considered an expert to them.

See Yourself As An Expert

To be an expert, you have to first see yourself as one, then stepping up to claim that of yourself.

For example, Tony Robbins is someone that many people would undeniably be regarded as an expert in many areas. When Tony Robbins first started out, he was a janitor and was broke.
Then, one day he decided that he didn't want to live this way anymore and decided to consume every single book he could find on human psychology to change his life. 

After applying what he had learned, his life improved dramatically and realized that many people in this world would be able to benefit from this knowledge as well. And right after that, he went out and started helping others.

In fact, when Tony Robbins first started learning Neuro-Linguistic Programming (NLP), he signed up for a six-month training course but did not complete the course. Armed with passion and desire to help others, he immediately started helping people and has now impacted the lives of millions of people around the world.

In fact, there are many "experts" in this world that started similarly with no certification, degree, or organization bestowing them with the title of "expert". They just decided that they wanted to go out and help people in an area that they have knowledge in.

One example is John Gray who wrote the bestselling book Men Are from Mars, Women Are From Venus. Before he became this "Relationship Expert" that we all know him as today, he started out by just giving relationship advice to friends to help them out.

From there he realized he was good at helping people with their relationships and just one day, he decided to become a "Relationship Expert".

Another example is the extremely likable and popular motivational speaker Les Brown. He often tells his story that he was labelled an "educable mentally retarded" during his school days. And he had no formal training in public speaking whatsoever.

He just saw a speaker on stage one day, found out how much that person was paid just for speaking on stage, and decided that if that person can do that, surely he can do that too! And that's what he did and now he is known as an expert in the self-help and personal motivation space.

Identifying The Expert In You

Ask yourself, what knowledge, skills or expertise do you have already that you can go out to help others right now? We all have to start somewhere and you can certainly start at where you are right now.

Even Tim Ferris became a New York Times Bestseller when he had no formal training in writing books. But now he is a highly sought after speaker all around the world.

In fact, he listed his "formula" for being an expert in his bestselling book The 4-Hour Work Week, in just a few simple steps:

Step 1: Read three top-selling books on your topic and summarize each on one page
Step 2: Give a free short seminar on the topic
Step 3: Write content on that topic
Step 4: Distribute that content

That's it!

Tim Ferris also said:

"[An] expert in the context of selling product means that you know more about the topic than the purchaser. No more. It is not necessary to be the best – just better than a small target number of your prospective customers."

So what Tim is essentially saying is that there will always be people better than you, and you do not need to be the best to be considered an expert.
You just have to be able to help someone who has yet to achieve the results that you have achieved, or to help someone who has yet to achieve the results you can help them get.

Here's an example:

Imagine for a second that you are bad at dating. And you decide that you need to get good at dating or you will forever stay single. So you go out and read as much information you can on dating.

After reading, you actually go out and implement some of the techniques, and you realize that you got better at getting dates!

You now know how to dress well, attract the opposite sex, and be able to hold conversations really well to the point where you now are able to easily get dates, when before you were struggling to even speak to the opposite sex.

Now that you are not just armed with the knowledge, but also with the actual experience, do you think there are people in the world who can benefit from what you know? Do you think that there are people who would want to learn from you now know?

Absolutely one hundred percent, without a doubt!

Being an expert is not self-centric, but rather focused on helping others. When you think to yourself that you are not good enough, or you are afraid of what people will say about you, then you are self-centric.

Instead of focusing on yourself, focus on who you can benefit because of your knowledge, and whose lives you can change, improve, and impact as a result of sharing what you know.

The main goal and objective of you being an expert, is to help someone else who knows less than you, and to help them achieve the results that they desire to have.
So, if you have a certain knowledge that can help someone else in certain areas of their life, then it is your duty and obligation to help them.

As Brian Tracy said:

And as you help more and more people, in return you will have everything you want because like Zig Ziglar said:

3 Reasons Why You Need To Be An Expert

Reason #1: Experts have credibility.
When you are seen as an expert, people will trust you, and want to learn from you. And when they trust and learn from you, they will want to buy your products and services.
It also becomes much easier for you to sell to them because you have already established trust, credibility and authority in their mind.

Think of some of the programs and services that you had purchased online so far. Chances are that you bought it because you see the person as someone who can help you with your challenges correct?
Without realizing it, you have positioned that person as an expert who can help you get the results you want.

So when you are seen as an expert, you will be regarded as the person who can help your clients get the results they want.

Reason #2: Experts have authority.
When you are seen as an expert, people will want to listen to what you have to say and with that you can impact more lives doing what you already love to do.

As more and more people come online to start their online business, the fight for your ideal client's attention become tougher. And that is why you must be seen as an expert because then people will notice you and really pay attention to any content you put out.

On top of that, search engines are now shifting their algorithm in clear favor of people who are regarded as an authority in their market. And authority can be derived from creating quality content for people to consume.
And as an expert, you will be consistently putting out quality content that will put you above the rest.

Reason #3: Experts make more money, period.
If you are recognized as someone who has the ability to help people get the results they want, people will keep coming to you wanting to be your customers and clients.
They will want to buy your products and services, and will also even spread the word about how you have helped them achieve their goals. This will build on your reputation, and as your reputation increases, you can even command higher prices and get more people will buy from you.

And when more people buy from you, not only will you be able to impact even more people's lives because of your teachings, but you will also become so much more motivated to help others.

So if being an expert is so lucrative, why don't more people become experts?

The "Hidden Scripts" Holding You Back

If you were like me when I first started, I had this little voice in my head that was constantly telling me, "I'm not qualified to be an expert," and "I'm not ready to be an expert".

I call these "hidden scripts". These are things you tell yourself to prevent you from taking responsibility, claiming the right to help others and becoming an expert.

And these hidden scripts all boils down to one thing – Fear. That's exactly what I experienced even before starting my online business. Here were some of my fears:

1) Fear of what people will think of me

2) Fear of negative comments

3) Fear of being criticized

4) Fear of being rejected

5) Fear of being ignored

Do any of these sound familiar to you? These are the same fears that many people face. Yes, even established experts face these fears. However I realized that everyone has these same fears when just starting out.

And if you really analyze these fears, it comes from a feeling deep inside us that we either think that:

a) We're not good enough

b) We might not be accepted

We all feel that we aren't good enough because we see someone better than us and think that we aren't at that stage yet.

However, you need to understand that you do not need to be the best in order to help someone. The common misconception that many people have, are that experts have to be the best in the world at what they do.

If that is really the case, then by definition of "the best" means that there can really only be just one expert in the world. But the truth of the matter is that there are many experts in the world.

So being an expert doesn't mean you have to be the best. You just have to be good enough to be able to help someone else who has yet to achieve the results you have achieved for yourself.

Start From Where You Are

Everyone is at a different level of experience, and regardless of your level of experience, we all can help someone who are just one step behind us.

So, for example, if you have learned certain techniques to overcome your fear of public speaking, then you can certainly help others overcome their fear of public speaking by simply sharing the method that you discovered to overcome your own fears of public speaking.

One way I found to really help overcome the negative thoughts in us that tells us we're "not good enough" is to reframe the way we see this in our mind.

So, instead of seeing yourself as "not good enough," start reframing in your mind that if you do not go out to help others who are faced with the same challenges you had and show them how you overcame these challenges, then you are actually depriving them of your knowledge, experience, and you're being selfish for keeping this knowledge only to yourself. 

Change Your Perspective

I remember back then when I was fearful of putting myself out there, worrying what others might think of me and my content, one of my mentors said to me, "Don't be so selfish to deprive the people you can help of your knowledge and your experience.
If you know something that can benefit someone else even just by a little bit, then it's your duty and obligation to go out there, find these people, and help them".

That totally changed my perspective of how I thought of my situation. I realized that I can't please one hundred percent of people one hundred percent of the time, because everyone have their own opinions and I just have to accept that. But I can definitely help those people who are in need of my help.

When I started to realize and accept that, I felt more at ease and start to focus more of my attention on those who can benefit from my teachings — so should you. And if you really think about it, even the best people in the world get hated.

For example, despite how Tony Robbins has touched and changed many lives, he still get people who hate him for what he does. Even Mother Theresa, who many people would regard as a Saint, have lots of criticism and hate towards.

In fact, you won't be able to find anyone who has reached a certain popularity and created an impact in people's lives, not have anyone hate them.

There will always be people in this world who will always find a way to be angry or unhappy with everything in their lives, and they will express this outwardly. Their hate is just a representation of the unhappiness in their own lives. Do not take it personally.

Therefore, it's just simply not possible for everyone in this world to accept you. So rather than focus on those small amount of people who are going to say negative things about what you do no matter how good your content is, you want to focus your energy on those who you can help.

Anyone can become an expert using this simple 4-step formula:

Step 1: Claim Your Expert Topic

First of all, you want to be clear on exactly what your expert topic is going to be. What is the topic that you are going to claim your expertise in, and with the world?
Chances are that you already have a certain knowledge, skill or expertise that can make you are pretty good at already and knowledgeable enough to help someone else, and to solve their problems. 

To find your expert topic, it lies in the intersection of 3 criteria:
A good expert topic is one that you're passionate and interested in. It is also where you have knowledge, skills and expertise in. And more importantly, it solves a burning problem.

One mistake that many people make is to choose a topic that they are really passionate about, and they're really good at, but it doesn't solve a burning problem.

For example, if you are passionate about collecting stamps, and good at finding rare collectible stamps, then that may not necessarily be a good expert topic because it may not actually solve a burning problem in the market.
While people may want to find rare collectible stamps and will pay good money to have them, they may not necessarily want to pay money to learn how to find rare collectible stamps. 

Therefore making sure that what you want to teach and help people with is a burning problem that people are already paying money to resolve.

Here are a few questions that will help you identify a good expert topic:

1) What are you good at doing?
2) What are some of the things your friends and family ask you for advice?
3) What are some of the things you are interested and passionate about?
4) What are some of the things you like to do?
5) What are some of the topics that you love to talk about?
6) What would you like to be recognized for?
7) What would you like to get paid to do?

You want to brainstorm 5 topics here, and from these topics choose the one that you know that you would be so excited to talk about and teach someone else about it.

If you aren't sure of what topic to choose, there are mainly three big broad topics that you can focus on that people need help in, and that you can really build a lucrative business in. They are:

For each of these topics, they can be further branched out to smaller sub-topics and that is where you should focus your topic of specialization in.

So for example, here's a few sub-topics of each of the main topics:

Wealth
Offline Marketing
Digital Marketing
Business
Stocks Investing
Derivatives Trading
Property Investing
E-Commerce
Affiliate Marketing
Health & Wellness
Weight Loss
Body Building
Paleo
Healthy Eating
Meditation
Beauty Tips
Anxiety
Yeast Infection
Relationship
Dating
Fixing Relationships
Finding Love
Improve Marriage
Fixing A Broken Heart
Getting A Lover Back
These are just some of the topics in the three main topics and there are literally tons more in each of them. You want to pick a topic that you know the most about, and that you know you would enjoy and like to talk about for the next five or more years.

The reason for this is because if you want to position yourself as an expert, you will need to create lots of content in the topic of your choice.

Creating content establishes you as an authority. So you want to choose a topic that when you talk about it, people can feel the passion that you're emitting from talking about that topic.

This is important because you most likely will face roadblocks along the way while building your expert business.
This is something that all experts face and you want to embrace it. And if you're not passionate about it, it will be hard for you to carry on in the business.

Like Steve Jobs said:

Now at some point or another, you might be thinking, "But there are already people teaching this stuff! Why would people want to learn from me?".

This is a question that I too have asked many times in the past. But if you really think about it, the fact is that there really isn't anything new that can be taught.

For example, there are tons of people out there already teaching "how to start an online business". And if you were to go through each of them, you would realize that they are all pretty similar to a certain extent in the things they are teaching.

That is because the principles of starting a business remains the same. But what differs is your unique experience with the topic. For example, my story is unique to me.
How I overcame my struggles to build and grow my business is unique to me. And my perspective of starting an online business comes from my own personal experience. 

You too will have your own unique personal experience and perspective in your chosen topic. That's what makes you unique. And that's why people will want to learn from you.

If you are teaching something that nobody has ever taught before, then that could be very risky because there has to be a reason why no one is teaching it. Either it is a topic that nobody actually is interested in, or a topic that nobody wants to pay to learn.

You don't want to reinvent the wheel. You want to improve it.

Therefore, choose a topic that there already are many people teaching on because it is validation that there are people who are willing to pay money to learn it.
Now, you may be asking, "But, I don't feel qualified to be an expert at my chosen topic yet." And I certainly understand how you feel because that's how I felt when I started.

There are two categories that you could be in right now: Expertise, and Pre-Expertise.

Expertise is where you are already proficient at something. That means you know enough to be able to help someone else who were once where you were at.
For example, you may know how to set up a website and you can certainly help other people who have no idea how to set up a website.

Pre-Expertise is when you are just starting out learning about the topic. So for example you could be very interested in learning how to set up a website and that's where you go and learn everything you can on the topic.
So in this case, instead of seeing yourself as "teaching," all you are doing is "documenting" what you have learned and sharing it with others.

From Pre-Expertise, you will naturally transition to having Expertise. Therefore do not let yourself believe that you need to know everything on your chosen topic to be an expert.
Everyone starts off from the Pre-Expertise stage, and then transition to the Expertise stage.

Then out of this 5 topics, choose the one that you know you will really enjoy talking about the most, and that you really see yourself being excited and enthusiastic to share with the world.

Now that you have identified your expert topic, it's time to define your personal story.

Step 2: Define Your Personal Story

Now that you know what your expert topic is, you want to know exactly why you chose this topic to share your message to the world with. Why is it that you chose this topic and not another topic?
Chances are that it's because you have a story behind why you want to choose this topic.

Every successful expert has a powerful story that they share with the world. Having your story becomes a very powerful marketing tool for your business because it makes an emotional connection with your audience.

People get to know more about you in a personable way, rather than to see you as someone who is unreachable. It is also a very powerful way to get people to know, like and trust you.

With your story, you want to let your audience know that you too were once in a very similar position like them, or have gone through a similar struggle so that they can relate with you.

Whenever I learn from someone, I want to know their story because I like to know how they had overcome obstacles and challenges in their way. I want to know their struggles and how they manage to pull through that. I want to be able to relate to them.

You too want to let your audience relate and have an emotional connection with you.

An odd thing is that we as humans tend to relate to one another's struggles more than the successes. And that's why we look for rapport points defined by a shared experience of challenges so that we can connect with our audiences.

So how do you define your story?

Here is a simple and powerful structure to share your story in a way that really strikes the heart of your audience that makes them feel that they know you, and there's just 5 parts to it:

Part 1: Describe how your situation was like in the past

Part 2: The struggles and roadblocks that you faced along the way

Part 3: The turning point in your situation based on a discovery

Part 4: Explain the results you got from the discovery

Part 5: Describe how the discovery can help your audience

With these 5 parts, you will now be able to craft a compelling story that will get people to know more about you, and to resonate with you.

So let's say you help introverted man get dates. Your story could be something like this:

Part 1: Describe how your situation was like in the past

"If you had told me years ago that I was going to be great at getting women out on dates, I'd think you were crazy. I was thin, wore glasses that were as thick as Oreos, and had clothes that were way too big for me."

Part 2: The struggles and roadblocks that you faced along the way

"When I tried to ask women out for dates, not only would I get rejected on the spot, but some would even laugh at me and ask me to look in the mirror. This obviously hurt my self-esteem even more and I became extremely terrified of asking any other women out on dates.
I even convinced myself that I would probably be alone for the rest of my life and that no woman will ever want to be with me."

Part 3: The turning point in your situation based on a discovery

"That was until one day I accidentally met up with an old friend of mine from high school and found out he had been going out on a date with a different woman each week!
And the thing about this friend of mine is that he was exactly like how I am now years ago. In fact, I used to think that he was worse in terms of appearance compared to me!

But yet he looked so different now and the way he carried himself exudes so much confidence. So I thought to myself, if he could do it, surely I could as well. And that's when I asked him to tell me his "secret" to getting so many dates.
I wanted to know everything from how he had the confidence to approach women, to what were the first words he would say to them, to how he would ask them for their phone number and actually get them to say yes to a date with him."

Part 4: Explain the results you got from the discovery

"The things he revealed to me shocked me and opened my eyes to a whole different world. And the best part was that I realized it was surprisingly simple.
It requires practice of course, but the methods he taught me were so simple and straightforward that practically anyone could do this. 

I got so excited that I couldn't wait to implement this. Upon learning what he told me, I went out to the nearest bar near my place and started to use the techniques that he taught me one by one.
At first, I messed up a few times because I was literally trembling from my fear of being rejected. But as I practiced and used the techniques over and over again, I got really good at it.

Then something interesting happened. I started to get one date. Then two dates. Then three dates. To the point I was getting up to three dates a week!

Fast forward to today, because of these methods he taught me, I'm able to get a date whenever I want and have never felt more confident than I am now.
Never again will I become the person I was before because these secrets my friend revealed to me changed my life. And these are the same secrets that I want to share with you."

Part 5: Describe how the discovery can help your audience

"With these methods, not only will you become more confident, but you will have the ability to attract any woman at will. Imagine just 30 days from today, you are able to go out on a date with a woman of your dreams that you never thought was possible before.
You are able to exude confidence that is not just real, but your date will feel charmed by your presence. You will know exactly what to say, when to say it, and how to say it.
You will also know how to use certain body language that will let your date want to get closer to you. And in just a matter of minutes, your date will be all over you. 

How would that make you feel? What would your friends now say about you? And more importantly, how will your life be different now that you can get any woman you want – at will?"

Now, I made that up on the fly but can you see how powerful this story can be, and how it draws you into what I have to say?

That's how you use your story to build trust and rapport with your audience. And of course, you definitely have to be authentic in your story and not make things up!

But when you have a genuine story and you structure it in the way I have mentioned above, you will be able to let your audience be captivated by what you have to say and let them feel as though they really know you.

Step 3: Create Your Step-By-Step System

Now that people know what your expert topic is, and have a powerful and compelling story, people want to know how they too can achieve the results you have achieved.
And this is where you want to create the steps of your system that has helped you to go from where you were, to the results you have achieved now.

While it's great to know what you have done to achieve the results you had, but if you cannot actually break it down into steps of what you did, then it's not going to help anyone.

I remember when I first bought a toy for my son that had many moving parts to assemble, I turned to the instruction manual to hopefully figure out exactly how to assemble the toy properly.
But after reading the instruction manual, I got even more confused on what to do! After trying to put the whole thing together numerous times and failing miserable, I just decided to give up and went to buy him another toy that was already pre-assembled.

You don't want your system that you are teaching to be like that. As an expert, a very important role you have is to break down your system, method, and technique, into steps that anybody can easily follow.
This way people will want to learn more from you because you are able to teach them in a way where it is simple to understand and the steps are easy to implement.

So the way to break down your system is through what I call the Zero-To-Hero Steps. This is where you define the steps of your system in a very logical manner from beginning to end.
How you do this is by breaking down your own process into small individual steps that is sequential to get to the end result you desire.

For example, if you have a way to help people write their book from scratch and launch it in 30 days, you want to break it down so that anybody who is a beginner and have never written a book before, can go through these steps and by the end of it, be able to have their own book launched.

Here are the possible steps for this system:

Step 1: Outline and finalize the table of contents for your book

Step 2: Finalize the content of your book

Step 3: Hire an editor, line editor, and book cover designer for your book

Step 4: Self-publish your book on the various platforms

Step 5: Market and launch your book 

End Result: Book launched in 30 days

Some people have asked me, "How many steps do I need to have for my system?" The answer is that there really isn't a fixed rule of how many steps your system has to be, but as a general rule of thumb, you want it to be anywhere from 4 – 7 steps.

This would be a good amount of steps because if there are too few steps, then it might seem like there's not much depth to the system, and if there are too many steps, it might get too complicated and overwhelming.

A good way to create these steps is by broadly categorizing each step of your system so that it becomes easy to present when you start to market your business later on.
Therefore if you really think your system has up to 20 steps, you want to categorize some of these steps as "mini steps" under a broad step.

For example if you have the following steps for your system:

Step 1: Brainstorm all the possible chapters of the book
Step 2: Chronologically place them in order
Step 3: Eliminate or combine the chapters
Step 4: Finalize the chapters

Then you could broadly categorize all these into one broad step, and have mini steps under it:

Step 1: Outline the table of contents for your book
Mini Step 1: Brainstorm all the possible chapters of the book
Mini Step 2: Chronologically place them in order
Mini Step 3: Eliminate or combine the chapters
Mini Step 4: Finalize the chapters
What's important is to just identify the broad category steps as that will be your "system" that you can teach others later on.

Time For You To Shine

Now that you have all the 3 steps needed to become an expert, the next thing you have to do is to start going out there to help people and build a lucrative business doing that!

Becoming an expert is nothing more than focusing on what you already to help people overcome the problems you already had overcame.

Do not focus on striving to know more than your competitors, but rather strive to help as many people with you can based on your existing knowledge.

Remember, you already have the existing knowledge needed to help others right now. So go out there and start helping as many people as you can!

Don't forget to let me know in the comments when you get famous!